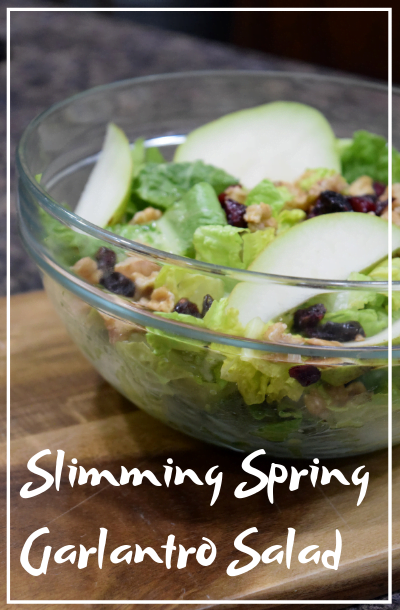 Skip on the store bought dressings and whip up some of MD Diet's sweet and spicy dressing in just a few minutes! Our heart-healthy gralantro (Garlic & Cilantro) has the perfect blend cilantro and garlic that'll make your tastebuds cry for more and more… and more.
Ingredients
Dressing:
4 sprigs cilantro
3 cloves garlic, chopped
3 Tbl. apple cider vinegar
1 1/2 Tbl. lemon juice
1/3 c. olive oil
1 Tbl. Splenda
Pinch Morton's Lite Salt
Pinch pepper
Salad:
4 c. romaine lettuce, chopped
1/2 c. walnuts
1 Tbl. sugar
1/4 c. craisins
1 apple or pear, thinly sliced
2 stalks green onions, chopped
Instructions
1) combine all dressing ingredients into a blender or chopper and blend till preferred consistency. Set aside.
2) Cook walnuts and sugar in a saucepan on med-low heat until caramelized and well coated; about 5 minutes. Let it cool for about 10 minutes.
3) Toss all ingredients together and enjoy!
* add in some chicken or steak to add in some protein and call it dinner!
* The fats in the salad are healthy polyunsaturated and monounsaturated fats that can improve overall health and protect the heart. These fats help to lower cholesterol and reduce the risk of heart disease. They can also improve your mood, mental awareness, and reduce fatigue.
*Want some tips tailored just to you? Head over to here and sign up for our weight loss services.