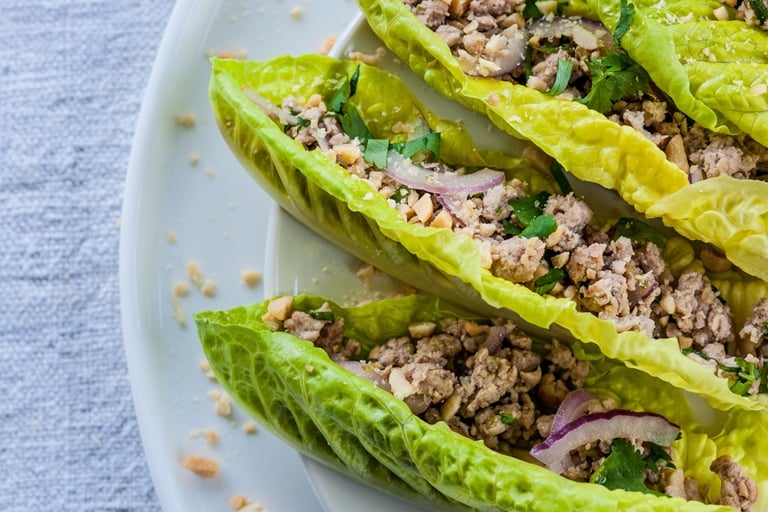 These 'Thai Lahb Lettuce Wraps' are a traditional recipe from Thailand. Typically this recipe uses pork or other meat scraps, but we used a lean ground turkey in this version to create this low fat and low carb meal. This exotic and delicious entrée will have your taste buds singing for joy!
INGREDIENTS
1 lbs. lean ground turkey,
2 cups chicken broth (bouillon)
3 limes
¼ cup red onions, small diced
¼ cup mint leafs, minced
¼ cup cilantro, minced
*Optional romaine lettuce (or cabbage)
*Adjust measurements to meet individual portion size
Seasoning from Asian supermarket:
1 tbsp. roasted rice powder
¼ cup fish sauce (Megachef brand - naturally fermented for 2 years no MSG, no color added, gluten free, preservative free)
DIRECTIONS
1. Heat chicken stock in a pot and bring it to boil on the stove top.
2. Add in the ground chicken and stir occasionally for a few minutes until the chicken is done cooking.
3. Drain the ground turkey from the broth and allow it to cool.
4. In a large mixing bowl (or just in the drained boiling pot) churn together the lean ground turkey with the cilantro, mint leaves and lime juice.
5. Then add the fish sauce to taste (amount varies depending the individuals portion size).
6. At this point you may add in more lime juice also if it suits your taste.
7. Finally add in the roasted rice powder to taste and stir it all together.
8. Place the raw romaine lettuce (or cabbage) on the serving dish and scoop the turkey into the center of the lettuce leaf.
9. Wrap, eat, and enjoy!