HCG Spinach Chicken Rolls Phase 2
Prep Time: 15
Cooking Time: 25
Yield: 4 Servings
Ingredients
400 grams Chicken breast ( about 4 breasts)
2 cups Spinach
¼ cup Onion, chopped
4 Garlic cloves, minced
3 Tbsp Lemon juice
2 cups chicken broth (or water)
1 tsp Oregano
1/8 tsp Thyme
1/4 tsp Onion powder
1/8 tsp Garlic powder
1 dash Cayenne pepper
1 pinch Morton light Salt
1 pinch black pepper

Instructions
Preheat oven to 350

°F

.

Cover chicken with wax paper & use a mallet to flatten chicken to about ¼ in thick.
Cook spinach, onion, garlic, lemon juice, and spices in a medium saucepan for 3 -5 minutes. (until spinach wilts & spices are fragrant)
Drain liquid and place ¼ of spinach mixture on one end of each chicken breast. Roll it up and secure with a toothpick. Place in a 9 X 9 baking dish.

Add chicken broth to the dish.

Bake for 25 minutes or until chicken juices run clear.
Phase 3 Modifications: Add ricotta cheese inside the chicken roll. Top cooked chicken with marinara sauce and mozzarella cheese.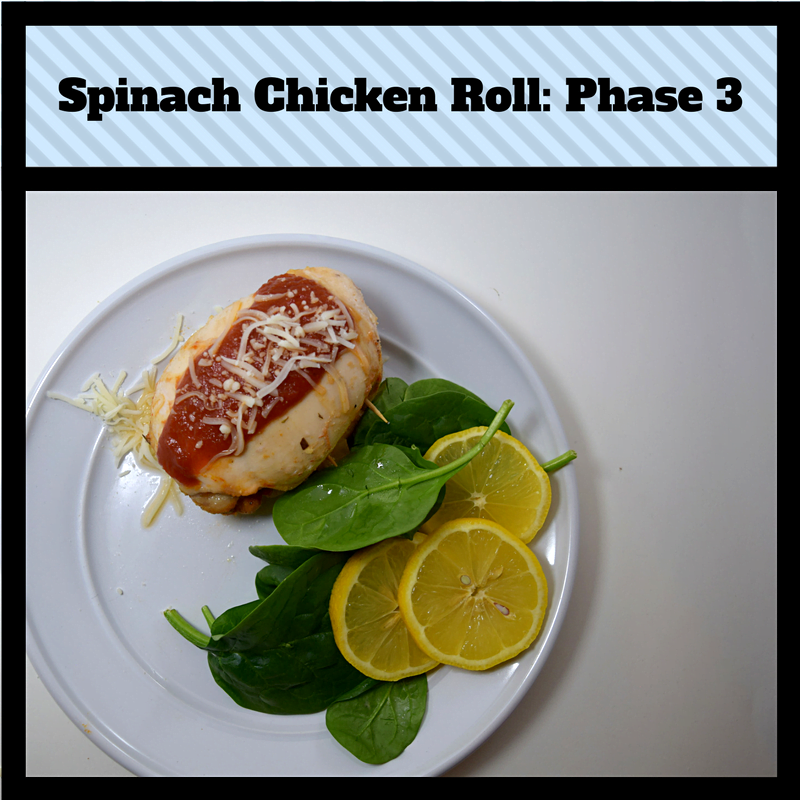 Nutritional Facts:
151.1 cal; 1.6 g fat; 758.8 g potassium; 6.9 g carb; 2.7 g fiber; 0.5 g sugar; 27.2 g protein