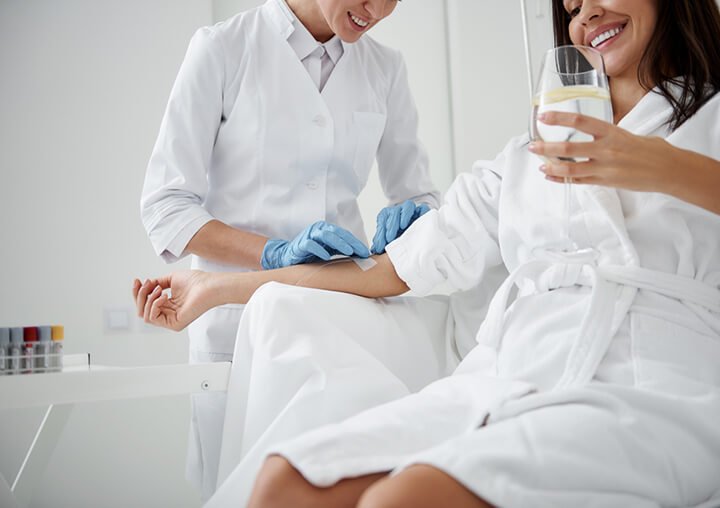 Vitamin injections, when used as part of a medical weight loss program, provide a number of significant advantages, especially when compared to diet and exercise alone.
The human body requires a wide variety of nutrients to fuel its processes and maintain optimal health. Excess weight, chronic illnesses and certain medications can lead to vitamin deficiencies, which can trigger a host of unpleasant and potentially dangerous conditions.
MD Diet offers vitamin injections to our patients as a part of our comprehensive medical weight-loss programs.
The Important Role of Vitamins in Health
The vitamin injections we use at MD Diet contain critical B vitamins in a proprietary blend of beneficial nutrients.
B vitamins, particularly B-12, are necessary for the body to synthesize protein, metabolize carbohydrates and burn fat. B-12 is necessary for the creation of red blood cells and maintenance of a healthy nervous system. B-12 deficiency can cause depression, chronic fatigue, headaches and digestive disorders such as constipation.
Vitamin B-6 supports the immune system, assists brain function and helps prevent water retention. B-6 also protects the body against the formation of kidney stones and reduces the symptoms of premenstrual syndrome (PMS). A B-6 deficiency can lead to fatigue, memory problems, arthritis, hair loss, acne and anemia.
What Role Do Vitamin Injections Play in Weight Loss?
Because you're consuming less calories, weight loss can be tiring. That's where B-12 comes in. Vitamin B-12 helps you have the energy you need to stay active and get the exercise your body needs. In addition, B-12 helps speed up your metabolism allowing you to burn fat faster and more efficiently. You'll have more energy, improved mood and it'll be easier to lose weight. Sufficient levels of B-6 protect against cardiovascular disease, cancer and cognitive decline.
Unfortunately, the body does not produce B-6 or B-12. Instead, we rely on our diet to meet these key nutritional needs. Because B-12 is found primarily in animal protein, Americans tend to have insufficient levels to maintain optimal health. Older adults are especially prone to this deficiency. Likewise, B-6 — found in fish and organ meats — is also lacking in the American diet.
Although no single vitamin will magically lead to weight loss without diet and exercise, vitamin injections can help you have more energy and lose weight more efficiently while boosting your health, vitality and overall well-being. They're an important part of any medical weight loss program
How MD Diet Uses Vitamin Injections in Our Medical Weight Loss Programs
Stomach acids decimate B vitamins, preventing them from making it through the digestive system and into the bloodstream. Consequently, vitamin pills may not provide the benefits of B-12 and B-6 you'd expect.
To circumvent the digestive system's destruction of these critical vitamins, we offer our patients weekly vitamin injections to support their weight-loss efforts.
MD Diet recommends that you get a vitamin injection each week when you come to weigh in. Our patients who receive these injections tend to lose more weight and have better results overall than those who don't. You'll feel better too, as the injections will help you handle the challenges that come with a sustained diet and exercise program.
MD Diet Weight Loss & Nutrition provides customized medical weight loss programs for patients throughout the Salt Lake City area. Contact us today to learn more about how vitamin injections can help you lose weight and regain energy and vitality.
Want to know more about how Vitamin Injections can help you feel better?
Send us a message using the chat box on the right and we'll give you the details on how Vitamin Injections can help you feel more energized, healthier and burn fat faster.