Delicious soup that will stimulate your senses and help clear out a cold or sore throat! This is a very close imitation of a chinese favorite Hot n' Sour soup. Quick and easy lunch or dinner. The spicy flavor will suppress your appetite and fill you up quick! Add red pepper flakes or additional cayenne to really give it a kick! Notice the tips below to keep your healthy lifestyle fresh, fast, and maintained.
a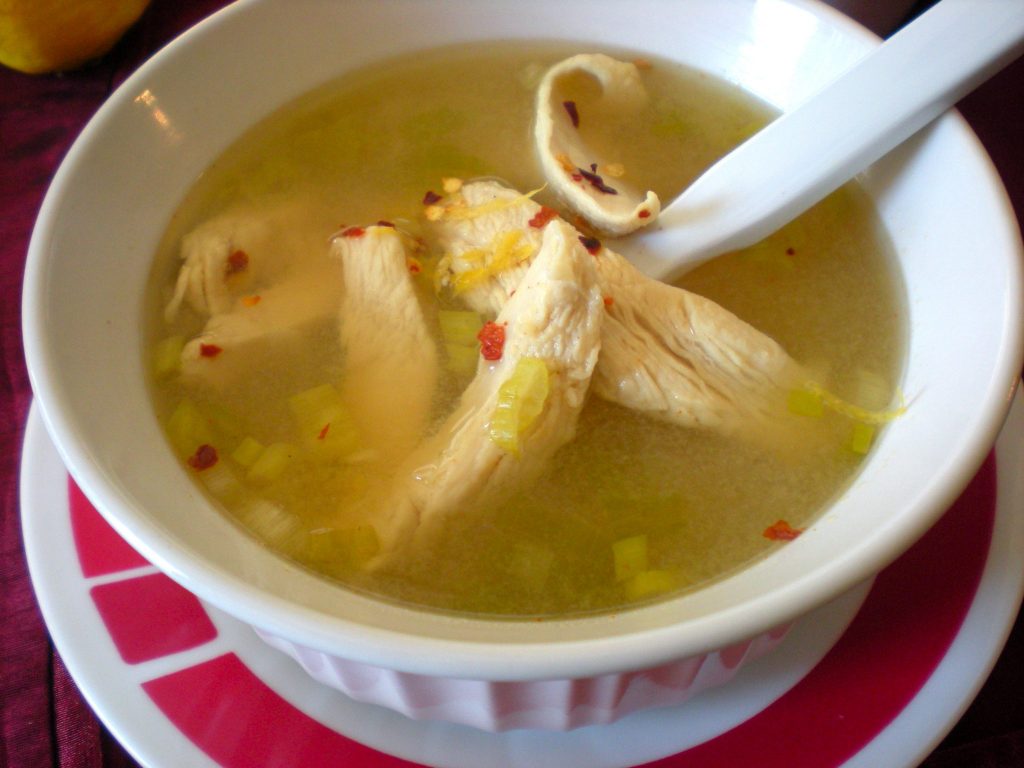 INGREDIENTS
1 c. chicken broth
1 1/4 c. water
1/2 lemon, quartered
100 grams chicken breast, thinly sliced in long strips
3 Tbsp apple cider vinegar
2 cloves garlic, minced or pressed
1/4 c. minced onion
1 stalk green onions, sliced
1 tea fresh ginger, grated
Dash cayenne pepper
1/4 tea chili powder
Pinch Morton light salt
1 Tbsp Splenda
DIRECTIONS
1) Bring chicken broth and water to boil over medium-high heat in a medium pot.
2) Firmly roll lemon with palm of your hand to loosen juices, cut and quarter 1/2 lemon. Squeeze juice from quartered sections into pot then toss in all 4 lemon wedges. Boil for 5 minutes, then remove lemon rind with fork or strainer.
3) Add chicken, onion, garlic, and ginger and boil for 2 minutes.
4) Add remaining spices and boil for 1 minute.
TIPS
#1  Buy a good sized ginger root, peel, and freeze in a bag for later use. This way you can always have it fresh on hand, and it is easier to grate when frozen. Not only does ginger have an energizing aroma and distinct flavor, but it can also boost your immune system.
#2   For Phase 3 add: 1/2 tea sesame seed oil, 2 Tbsp pineapple juice, sliced mushrooms, celery and any other vegetables you like.
#3  Double or triple the batch of soup and store it in serving size containers for a quick grab n' go lunch on your way to work. Keep in mind that the flavor and level of heat from the spices can increase over time as the soup sits.
Makes 1 serving.
169.2 cal; 1.7 g fat; 16 g carb; 4.2 g fiber; 27 g protein