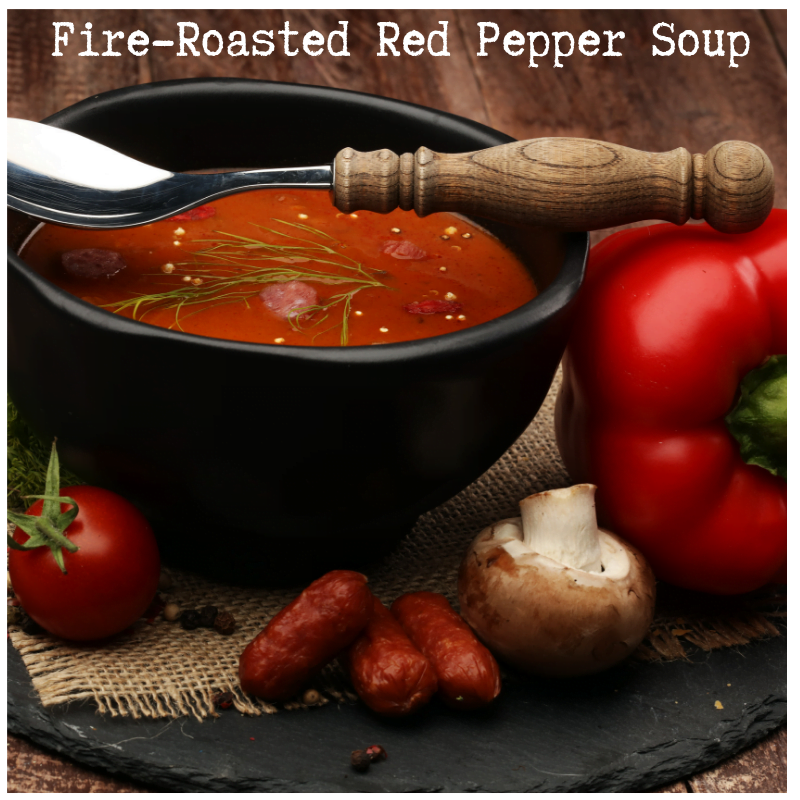 Fire-roasted Red Peppers? Check!
Loads of veggies & vitamins? Check!
Low Calories? BIG CHECK!
There is nothing quite like enjoying a bowl of delicious Fire-roasted Red Pepper soup, a hot fire and snuggling up with your loved ones. Enjoy!
Bonus Perk: This soup freezes well for a quick ready-made dinner.
Ingredients
6 lg. red bell peppers, roasted, cored, seeded, and chopped
1 Tbsp olive oil
1 onion, chopped
1 carrot, chopped
4 cups vegetable stock (can also use chicken stock)
3 cloves garlic, chopped
3 stalks celery with leaves, chopped
1/2 head cauliflower, chopped into large pieces
1 tomatoes, diced
1/4 cup fresh parsely, chopped (or 1 Tbsp dried)
1/4 cup tomato paste
1 tsp oregano, dried
1/2 tsp cumin
1/2 tsp Morton Light Salt
1/2 tsp black pepper
Dollop of fat free sour cream (optional)
Instructions
Grill or broil peppers turning occasionally as the skin blackens. Once charred on all sides, place in a covered container to steam for 15 minutes. Then peel skin from peppers and remove core and seeds. Chop into large pieces.
Add onion and carrots to olive oil in a large stock pot and saute for 5 minutes.
Pour vegetable stock into pot and add garlic, celery, cauliflower, tomato, parsley, and tomato paste to pot and simmer for 25 minutes.
Puree soup using an immersion blender or a regular blender (may need to divide into 3 parts).
Pour back into pot and add oregano, cumin, salt and pepper. Heat through and serve. Garnish with additional oregano sprinkles or a dollop of sour cream.
Accompany with a side of edamame for extra protein.
Nutritional Facts:
118.3 cal; 3.7 g fat; 19.9 g carb; 6.5 g fiber; 9.2 g sugar; 3.8 g protein
https://www.mddietclinic.com/roasted-red-pepper-soup/