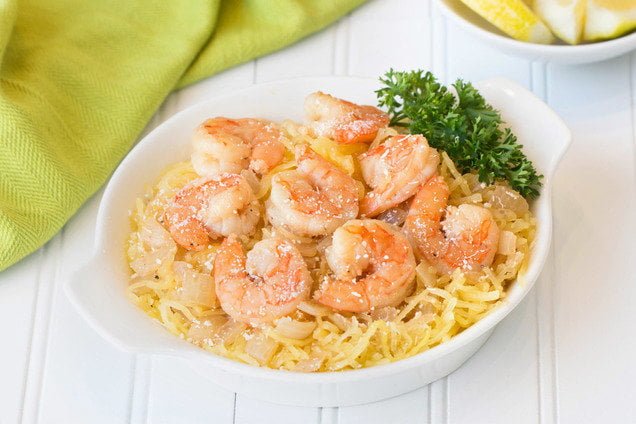 Are you going Keto? Here is a delicious keto recipe that substitutes spaghetti squash for pasta and will help you stay on track with your weight loss goals.
INGREDIENTS
1 pound raw shrimp, deshelled, tails removed
1 bunch asparagus, cut into thirds
8 ounces baby bella mushrooms, chopped
2 tablespoons olive oil
1 spaghetti squash, halved
1 yellow onion, chopped
2 teaspoons Italian seasoning
1 teaspoon crushed red pepper flakes
1/2 teaspoon garlic salt
1/2 teaspoon pepper
For the Alfredo Sauce:
1/4 cup butter
1 cup heavy cream
1 cup Parmesan cheese, grated
2 cloves garlic, minced
DIRECTIONS
Preheat oven to 425°.
1. Lay squash halves on an ungreased baking sheet, cut-side down. Roast for 40 minutes or until insides are soft. Scoop out insides of squash with a fork and discard skins; set aside.
2. Steam asparagus.
3. Heat olive oil in a skillet over medium heat. Add mushrooms and onions, cook for 7 minutes or until onions are translucent. Add Italian seasoning, red pepper flakes, salt, pepper, asparagus and squash. Cook for several more minutes, stirring occasionally to integrate flavors.
4. In a separate skillet over medium-low heat, melt butter. Add heavy cream and bring to a simmer. Add Parmesan and garlic. Cook, stirring constantly, for 5 minutes or until Parmesan is melted and sauce thickens.
5. Add shrimp to the sauce skillet. Turn up heat to medium; cook for 7 to 10 minutes or until shrimp are pink and cooked through.
6. Top vegetables with shrimp Alfredo sauce mixture. Serve immediately.