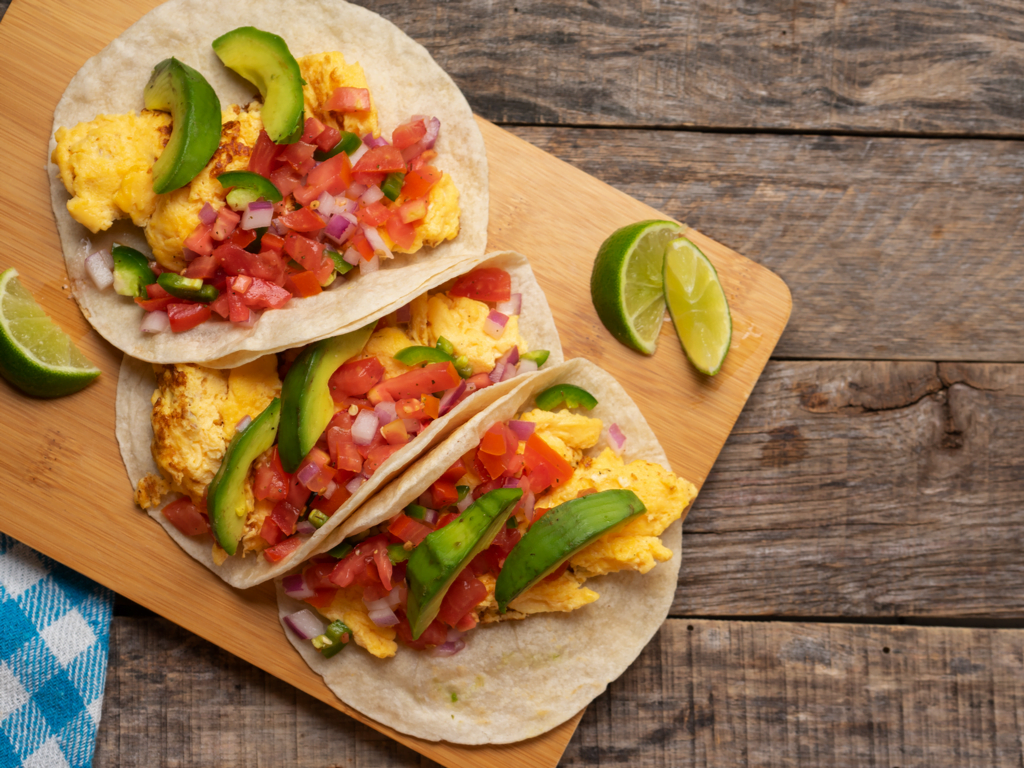 Tacos! We all love tacos! Do you want some tacos that would be great for your plant-based diet program? Well, here at MD Diet we offer a recipe for some blissful breakfast tacos. (Note that this recipe is not for the other diet programs) You'll need:
INGREDIENTS 
4 large eggs  
1/4 teaspoon garlic salt  
1/4 teaspoon pepper  
1/4 cup chopped green or red bell pepper  
4 medium green onions, chopped (1/4 cup)  
1/2 cup shredded pepper Jack cheese (2 oz)  
6 taco shells (or soft tortillas 
1 cup shredded lettuce 
1 small avocado, pitted, peeled, and sliced  
1/4 cup Salsa 
DIRECTIONS 
In a small bowl, beat eggs, garlic salt, and pepper thoroughly with a fork or wire whisk. Stir in bell pepper and onions.  

Bring an 8-inch skillet to medium heat. Coat in non-stick cooking spray. Pour egg mixture into skillet. As mixture begins to set at bottom and side, gently lift cooked portions with spatula so that thin, uncooked portions can flow to bottom. Avoid constant stirring. Cook 3 to 4 minutes or until eggs are thickened throughout. Gently stir in cheese.  

Heat taco shells as directed on package. Place lettuce in shells. Spoon eggs onto lettuce. Top with avocado and salsa.
Want to hear about some of our patients who've lost a lot of weight? Click here to see our Success Stories page.