HCG Cauliflower Breadsticks
We love breadsticks! But we don't love all the carbs and calories. Cheesy cauliflower breadsticks to the rescue! Mmmm… it's like cheating but without really cheating. You can enjoy the weekend, breadsticks and all!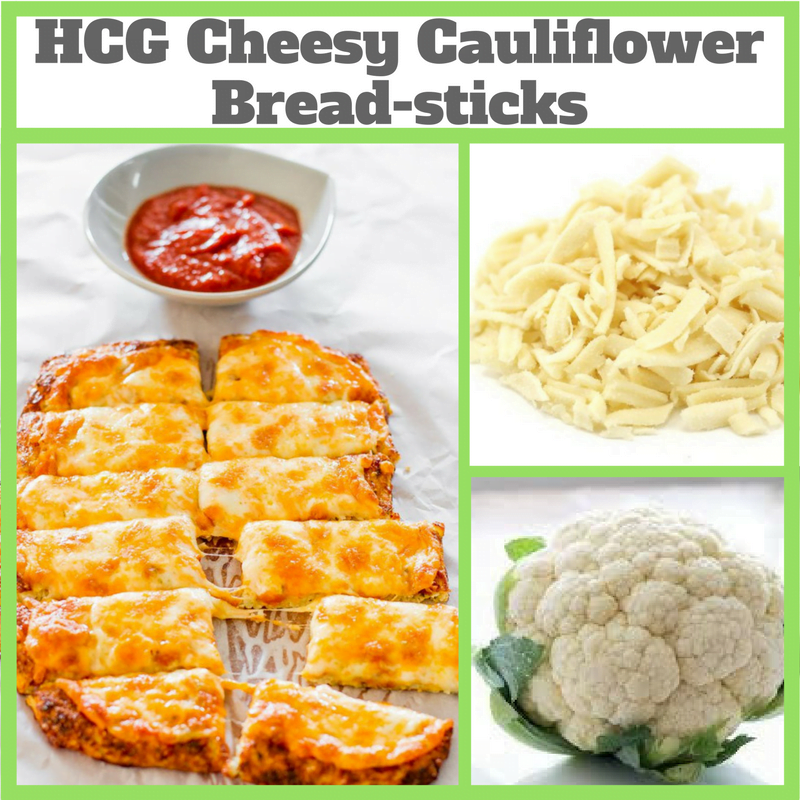 Yield: 1 Serving
Prep Time: 5-10 min
Cook Time: 50 min
Ingredients
1 cup raw cauliflower, grated

1/4 cup egg substitute

1 cup shredded 2% reduced fat mozzarella

Sprinkle garlic salt

Sprinkle Italian seasonings

1/2 cup Italian diced tomatoes
Instructions
Preheat oven to 350.

Puree tomatoes & set aside.

Mix cauliflower, 1/4 cup egg substitute, and 3/4 cup shredded mozzarella together in a bowl until combined.

Line a 9X13 pan with parchment paper. Pour mixture into pan about 1/2 inch deep. (It is okay if the mixture does not cover the entire pan)

Bake at 350 for 40 min or until set.

Sprinkle with garlic salt, Italian seasonings, and 1/4 cup mozzarella.

Continue baking for an additional 10 minutes until cheese is melted.

Take out of oven and slice into strips.

Serve with your pureed, homemade marinara sauce.
Nutritional Facts:
309.4 cal; 10.9 g fat; 21.4 g carb; 3.3 g fiber; 29.9 g protein
**Recipe courtesy of www.myhcgdietrecipeblog.blogspot.com